The ongoing crypto apocalypse appears eerily reminiscent of the dot-com crash in the early 2000s. Amongst the many losers could be once-in-a-lifetime opportunities.
2022 has been a hard time to be a crypto enthusiast.
Bitcoin, inarguably the king of crypto, is down 55% year-to-date.  Ethereum is down 51%. At the bottom of the market, even Dogecoin has fallen by 55%.
And with a global recession looking more and more likely, further corrections, crashes, and wipe-outs appear inevitable.
However, while history cannot predict the future, it suggests the ongoing bear market is a much-needed action before the crypto market goes mainstream.
Let's explain this possibility further.
2023 crypto crash
According to Coinmarketcap, there are 20,286 cryptocurrencies in existence, of which 10,953 are actively traded.
For perspective, there were only seven cryptocurrencies in 2013 and over 500 just a year later.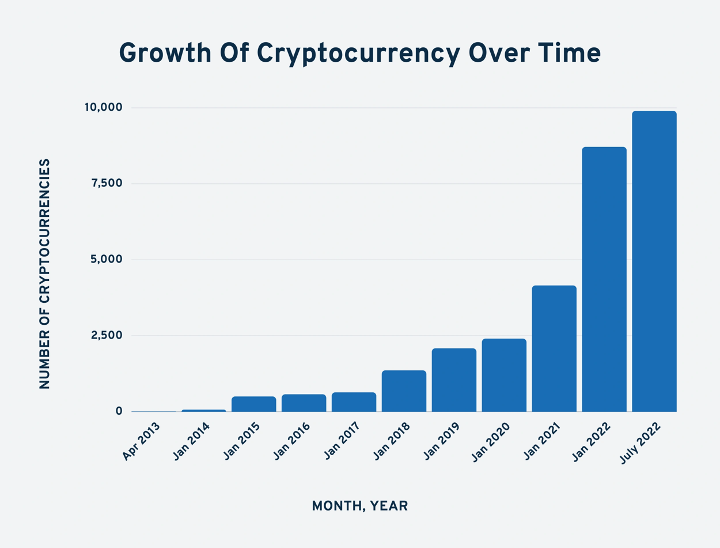 As you can see on the chart above, crypto has experienced exponential growth over the past nine years. Explosive inwards investment peaked during the pandemic, coinciding with ultra-loose monetary policy defined by state-issued relief funds.
Despite the ongoing 'cryptopocalyse,' the market cap of every crypto combined is now in excess of $1 trillion, of which Bitcoin accounts for $409 billion. Meanwhile, combined daily trading volume is currently $107 billion.
However, despite the number of cryptos exploding, the market is collapsing alongside tightening monetary policy.
Where next for crypto post-2023?
The current oversaturation of the market combined with falling values is eerily reminiscent of the dot-com crash of the early 2000s.
Between 1995 and March 2000, the tech-heavy Nasdaq Composite index rose by more than 400%, only to crash by 78%, or $5 trillion by October 2002. Investor confidence was further diminished by multiple accounting scandals, including giants like Enron, WorldCom, and Adelphia Communications.
Dozens of tech stocks vanished overnight, including Pets.com, Webvan and Boo.com. The ones which survived, including Amazon, saw their market values collapse far beyond their true value.
Others, like Google, were suddenly able to expand rapidly as internet space and interest became cheaper and concentrated in fewer companies.
Contrast this collapse to crypto in 2022. The largest exchanges —Binance, Coinbase, and Celsius — are all being investigated by regulators. Further regulation, perhaps inadvertently creating investor confidence, appears likely.
Yes, the market is crashing. In the upcoming 2023 recession, thousands of altcoins are likely to go to the wall.
One key example is the coins directly pegged to USD, including Tether, USD Coin, and Binance USD. All fill the same financial niche. When the crash truly comes, only one will be left standing.
This matters because according to JP Morgan, stablecoins now hold $80 billion of short-term US government debt, or 2% of the total market for US treasury bills.
This is a higher proportion than Berkshire Hathaway.
But it's also clear crypto is facing a wider reckoning.
Ethereum co-founder Vitalik Buterin thinks 'the next 10 years is when crypto has to transform into something that is not based on promises of being useful in the future but is actually useful. Because a lot of applications are promising in theory, but they're just completely not viable because of scaling issues today.'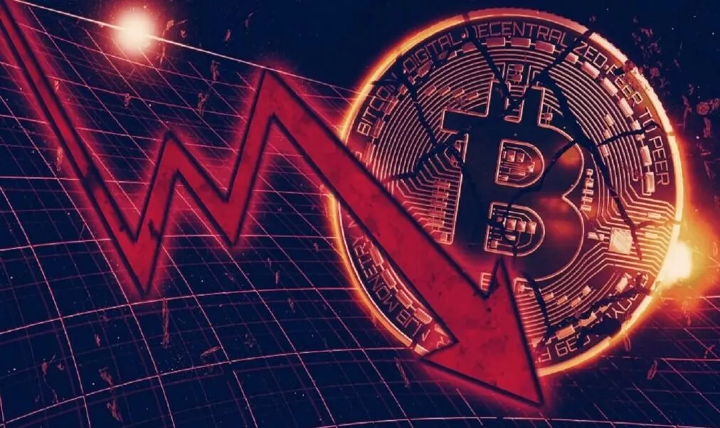 Facing facts, 300 million people trade crypto globally, and only 18,000 businesses accept crypto as a form of payment. While an accomplishment in itself, this is nowhere close to mainstream use.
But what happens next is debatable. Former Goldman Sachs executive Raoul Paul argues the total crypto market cap could skyrocket by a factor of 200 to $200 trillion by 2032. He laments 'people don't realize the world has never seen an accumulation of wealth like that in history.'
Conversely, perma-bear Peter Schiff, who famously called the 2008 financial crisis, argues Bitcoin's 'minimum support will be tested below $10K. Look out below!' This would represent a halving from the current level, and remains a feasible possibility.
Worse still, he believes 'Bitcoin topped out at $69,000. I don't think it's going to reach another high.'
However, it's worth noting that few thought Amazon or Google worth buying immediately after the dot-com crash.
And as the recession deepens and the total number of cryptos falls to a fraction of those in existence today, the eventual recovery could see the remnants capturing far more investment than before.
Like internet usage, crypto investing will eventually become far more mainstream. Only 10% of the US population currently invests in the asset class. But with crypto and blockchain underpinning web-3, the recovery could see investor sentiment flip fast.
The survivors of 2023 could well be the winners of 2032.