Solana is a real solution to scalability problems of blockchains. The blockchain has fast transaction speed and high throughput, making it a unique crypto investment.
Concise Overview
Solana is a new blockchain technology that handles thousands of transactions per second
Its scalability is one of its major attractive investments
Solana has a high potential to grow in price as it develops and improves its technology
Introduction
Solana is a high-performance blockchain designed for dApps that require high transaction throughput and low latency. Its mission is to build a scalable, fast and secure blockchain platform that supports smart contracts and decentralised applications. To make that happen, it employs a consensus algorithm which allows for a large number of transactions per second (TPS) while also providing high security and fairness.
In this guide, you'll get to see some of the crucial aspects of Solana as an investment opportunity. You'll also learn some factors that make Solana unique and assess its potential for investment and adoption.
Understanding Solana
Solana is a smart blockchain network that doesn't operate using the mainstream consensus models. Besides, it uses sharding to process transactions faster and cheaper. These unique features are the pillars on which Solana's rapid growth into one of today's most reliable blockchain solutions is built.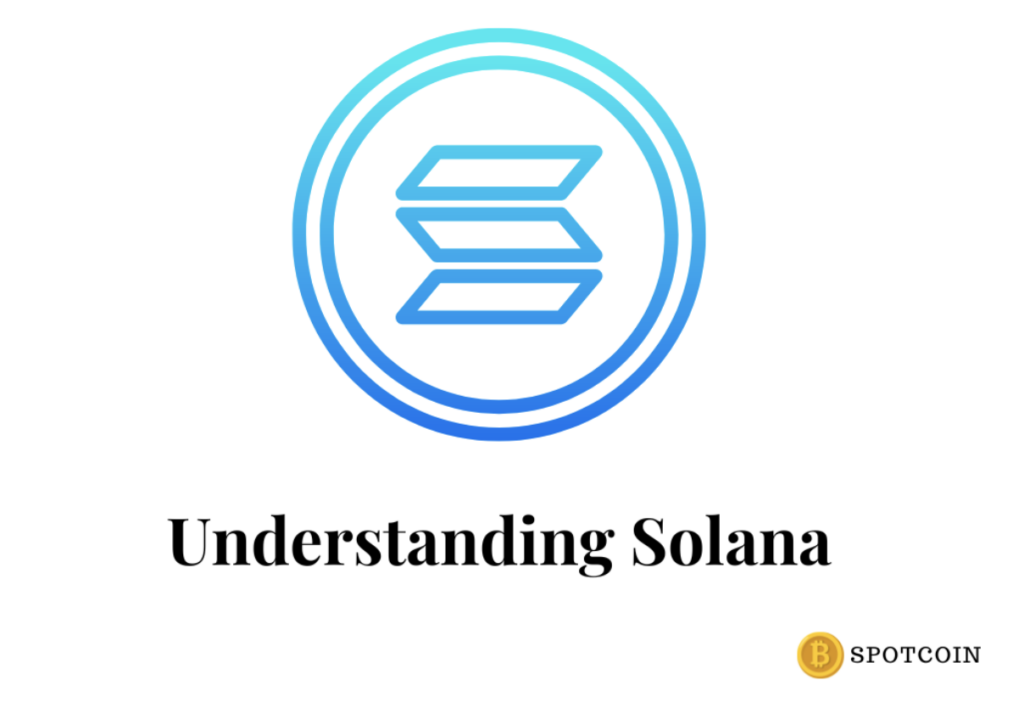 What is Solana?
Solana is a hybrid consensus-based permissionless blockchain platform. It's designed to facilitate the throughput of node activities in networks without compromising security. The formula in its design lies in its layer-1 blockchain structure, which is composed of the proof-of-stake (PoS) and the novel proof-of-history (PoH) algorithms.
While most blockchain platforms are decentralised, Solana concentrates power on master nodes. This minimises possible interoperability issues such as bottlenecks in the block throughput process. The crypto project, in this way, seeks to close the loopholes that have bedridden the blockchain trilemma — security, scalability, and decentralisation.
History of Solana
Anatoly Yakovenko created Solana in 2017. The mission was to provide a more consistent layer-1 blockchain structure to blockchain users. Its blockchain was introduced to users the same year it was created. After that, it underwent different test phases before officially being approved as an open-source blockchain platform in 2020.
What is Solana Used for?
Solana is highly suitable for smart contracts, such as those in decentralised finance platforms and non-fungible token markets. Given its wide bandwidth of customisable features, low operational fees, and security, it's renowned for its scalable user experience. In the technical direction, the 'Ethereum killer' accommodates high throughput, which is fundamental to decentralised blockchain programs due to multiple participants defining its typical user size.
Solana Vs Other Cryptocurrencies
Solana operates amidst unique blockchain features that allow it to meet users' expectations better than substitutes. Therefore, it's necessary to understand the differences between this crypto project and others.
| | | | | |
| --- | --- | --- | --- | --- |
| Features | Solana (SOL) | Ethereum (ETH) | Cardano (ADA) | Avalanche (AVAX) |
| Market Capitalisation | 15B+ | 200B+ | 18B+ | 7B+ |
| Consensus Model | Proof-of-work & proof-of-stake | Proof-of-work | Proof-of-stake | Proof-of-stake |
| Throughput Capacity | 65k transactions per second | 15 transactions per second | 250 transactions per second | 4500 transactions per second |
| Market Network | About $3B TVL | About $57B TVL | About $140M TVL | About $2.9B TVL |
| Transaction Fees | Very low | High | Low | Very low |
| Monetary Regulation | Inflationary & deflationary | Inflationary | Inflationary | Inflationary & deflationary |
Ethereum (ETH) Vs Solana (SOL)
Solana is called the "Ethereum Killer" because it offers a similar platform with improved scalability and security. It's also worth noting that Solana has been referred to as a "second-generation blockchain." But how does it differ from Ethereum? Here are things to note:
Market Capitalisation
Ethereum is the second largest project in terms of market capitalisation, after Bitcoin. It has over $200 billion. Solana, on the other hand, has lower market capitalisation, with about $15 billion.
Consensus Model
Ethereum is based on the first blockchain consensus model — proof-of-work. Solana, however, is based on newer consensus models, such as proof-of-stake and proof-of-history.
Market Network
Ethereum has a larger crypto community and smart contract network than Solana. Its total value locked (TVL) pegged at $57 billion is greater than Solana's $3.2 billion. Therefore, Ethereum is more marketable, patronised, and renowned than Solana.
Throughput Capacity
Ethereum currently has a throughput of 15 transactions per second. It's thus significantly slower than Solana, which can process up to 65,000 transactions in a second.
Transaction Fees
Ethereum charges higher fees, while Solana is known for its significantly low transaction costs. Besides, the latter uses sharding to process transactions faster and cheaper.
Monetary Regulation
Ethereum's monetary policy is inflationary, premised on what its protocol pays out as rewards. By contrast, Solana is hybrid — inflationary and deflationary.
Cardano (ADA) Vs Solana (SOL)
Solana and Cardano are both blockchain technologies that offer a variety of benefits to users. Both platforms are designed to be able to handle high transaction volumes, but Solana has been optimised for speed and throughput. Here are some differences:
Market Capitalisation
Currently, Cardano's market is above $18 billion. Solana doesn't meet such a value, but it's only some amount away. So, Cardano is worth more than Solana.
Consensus Model
Cardano solely operates with the proof-of-stake protocol. Solana incorporates the proof-of-stake model with its proof-of-history.
Market Network
The total value locked (TVL) is currently $139.99m for Cardano. For Solana, it's much higher, signifying an improved market network.
Throughput Capacity
While Cardano is relatively a quick-transacting project due to its throughput of approximately 250 transactions per second, Solana is known to outperform its transaction speed significantly.
Transaction Fees
In terms of transaction costs, Cardano loses to Solana. Sol boasts an average transaction fee of about $0.00025. ADA costs much higher.
Monetary Regulation
Cardano regulates its currency through a fixed inflationary capitalisation system. Solana regulates the value of its token via a hybrid model where tokens are systematically hoarded.
Avalanche (AVAX) Vs. Solana (SOL)
Solana and Avalanche are two of the most popular blockchain platforms in the world. They're both open-source, meaning anyone can use them to create their decentralised applications (DApps) and smart contracts. Below are the differences between them:
Market Capitalization
While both projects share a lot, Solana holds a higher market capitalisation than Avalanche. They stand at approximately $15 billion and $7 billion, respectively.
Consensus Model
Avalanche integrates the Snowman protocol on its unique proof-of-stake algorithm, making its consensus a probability-based model. Solana's hybridisation makes it different and unique.
Market Network
Avalanche's TVL is currently around $2.88b. Therefore, it doesn't match Solana. However, it does have the capacity to meet up and exceed.
Throughput Capacity
Avalanche can process about 4,500 transactions per second, making it fast. However, Solana's throughput is nearly twice Avalanche's capacity.
Transaction Fees
Avalanche is more expensive, with higher gas fees than Solana. Still, they both solve the Ethereum gas issues with reasonable fees.
Monetary Regulation
Avalanche creates scarcity through a flexible capitalisation monetary system. Solana regulates its value by burning tokens to create systematic scarcity.
Solana Investment
Solana currently operates within a tight competitive landscape, which leaves its profitability challenging to speculate. However, you can deduce and analyse its performance.
Solana's Price Performance
Despite holding high values from 2020 through 2021, Solana currently experiences a short-term price dwindling that has ripped off a large amount of its previous average worth. This is to say; the novel crypto isn't immune to changes and fluctuations.
Bitcoin devaluation can affect Solana's fall in value. Analysts also point out that new cryptocurrencies can compete fiercely against Sol, declining its growth rate and value. Another factor is its quasi-decentralised architecture. Solana's network shutdowns can be due to its system overworking a massive transaction capacity per interval.
Is Solana Worth It?
Solana's recent price fall is pan-industrial and thus external to its actual performance. This means its value is prospectively set to appreciate. This could be due to crypto appreciation in general or the adaptation of the crypto market to a new paradigm.
Value appreciation is also feasible with the creation of scarcity and subsequent value rise likely to result from other buyers hoarding and speculating Sol tokens. Notably, there are growing trends across social media platforms regarding the optimistic view of cryptocurrency investors on Solana's comeback in value, which naturally keeps the cryptocurrency perspective.
The answer to the question, so far, is yes: Solana is worth your investment today.
What to Know Before Investing in Solana
If you're thinking about jumping into Solana, you might be wondering what it's all about. There are three things to know before investing.
The first thing is that Solana is still a very young project. Its first block was created only in 2020. So, it hasn't been around long enough for its developers to prove themselves. Not all use cases are proven yet for the technology. But there are plenty of promising applications on the horizon.
Besides, investing in Sol can be risky. The price of cryptocurrencies can go up or down very quickly — often without any reason. That means if you invest in Sol without doing your research and are unable to ride out the ups and downs of the market, it could cost you money.
Finally, if you decide to invest in Sol, ensure you do plenty of research before making any purchases. There are lots of good resources for figuring out which coins are best suited for investment. So, don't rush into anything until you've done some digging around first.
How to Buy Solana
Solana is broadly used today, making it available to investors via different options. Buying it requires a set of steps highlighted below.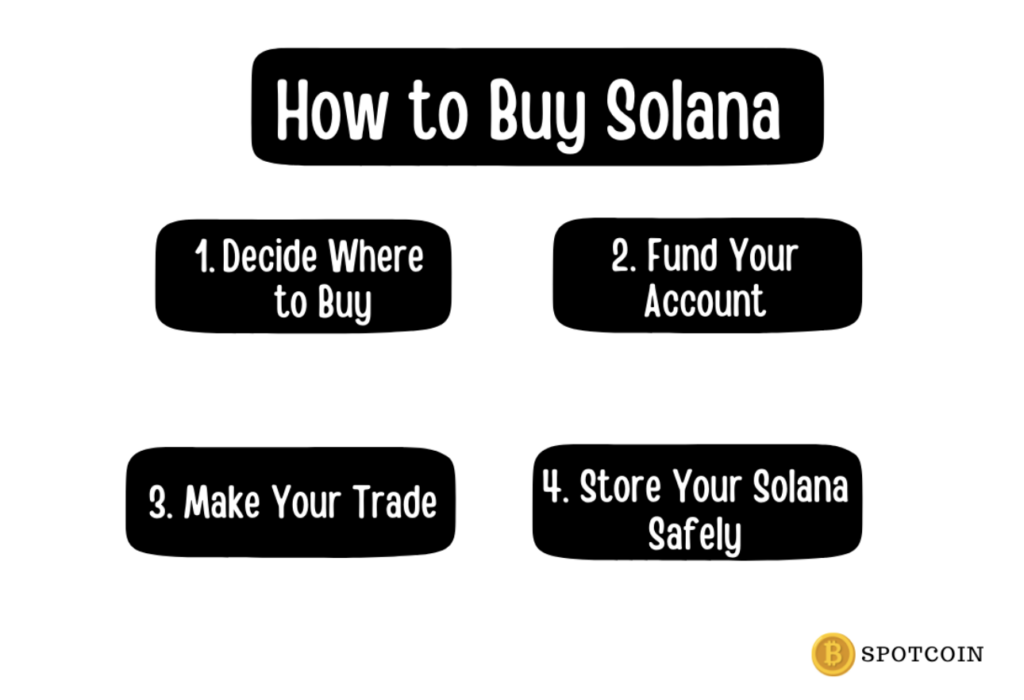 Decide Where to Buy
There are multiple options for buying Solana. You can buy it from centralised or decentralised crypto exchanges.
In a centralised exchange, a regulating company mediates Solana transactions between a buyer and a seller and acts like a broker. Some centralised exchanges are crypto-friendly, thus making the only payment possible in crypto. Some accept payment in fiat currency and other cryptocurrencies.
A decentralised exchange constitutes an automated network that connects buyers to sellers for lower transaction fees than the centralised. However, due to the reliability issues that result from transacting Solana with unreliable peers, some users opt for centralised exchanges. But when trusted, decentralised exchanges can be safe and are much more cost cost-efficient.
Fund Your Account
Funding your account requires that you open an account with your desired exchange. This means you'll need to share your details with the platform. Exchanges, especially centralised platforms, will ask for credentials like your passport details to comply with financial regulations against money laundering.
Depending on the acceptable currencies, an exchange can request your bank or card details to transfer your fund after verifying your identity. One thing to ensure before funding an account is checking the exchange's transaction fees. This can help you avoid dealing with high-cost platforms.
In the case of a decentralised exchange, opening an account may not be necessary. You only need a cryptocurrency wallet to fund and buy Solana via a peer-to-peer transaction.
Make Your Trade
At this stage, you can be sure that the most technical aspects of the buying process have been handled. All you'll need to do is trade.
Trading regardless of whether the exchange is centralised or not would require you to preview the rate at which your holding will be exchanged for Solana. If suitable, you can then confirm the transaction. At this point, you'll have Solana transferred to you. One thing you need to look out for here is the storage safety of your coin.
Store Your Solana Safely
How you store your Solana can influence your risk of losing it. There are two basic ways you can do this.
You can store your Solana on the platform where it was bought. This can prevent unnecessary access to funds due to the loss of sensitive details. It can also pay off as you can get rewards for staking blocks. The significant risk is the possibility of losing your money to hackers who may be attempting to compromise the security of the platform.
You can as well choose to save your cryptocurrency in a Solana-supporting private wallet. Transferring your cryptocurrency from the exchange where you bought it to your online wallet could cost you little to no fee. The potential risk in saving your cryptocurrency in your wallet involves permanently losing your fund due to forgetting your login details.
Cheapest Places to Invest in Solana
There are numerous online trading platforms to buy Solana from. But most vary in cost, which is why understanding them before trading on them is worthwhile. Below are the cheapest exchanges where you can buy Solana: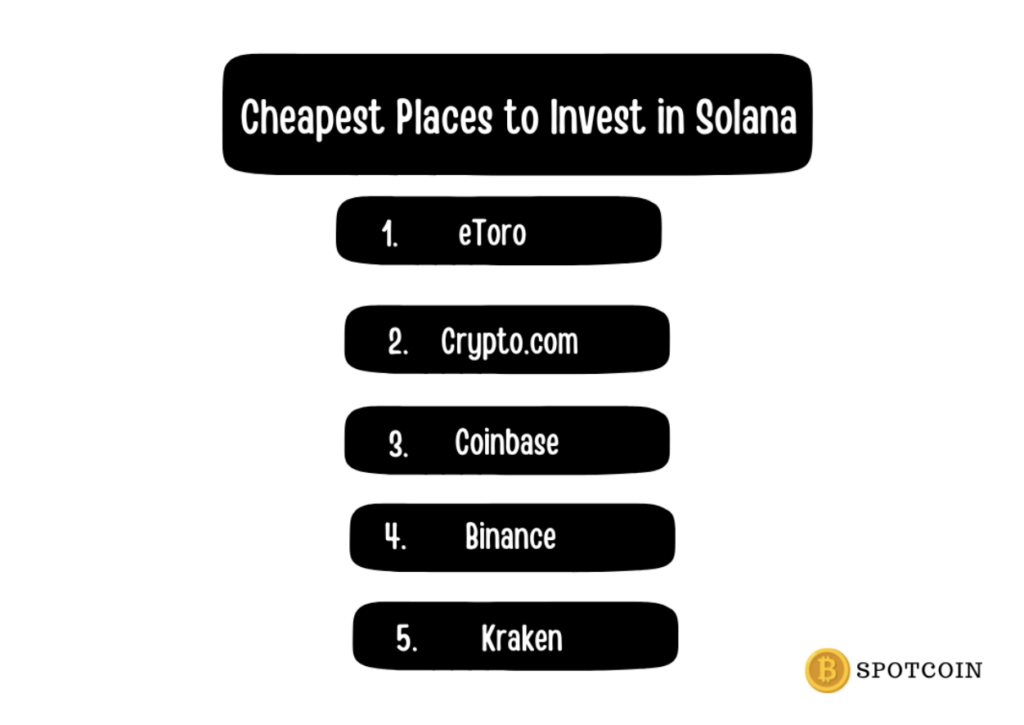 eToro
eToro is the number 1 platform to buy for Solana. The platform is easy to navigate with multiple simple-to-use but advanced tools. It offers a guide to new users and is an enabling architecture for experienced users. Gaining access to buy Sol takes only 10 dollars of deposit on the platform. The space also offers low transaction fees and contains facilitative tools that can enhance trading success.
Crypto.com
Crypto.com is one of the best platforms to buy Solana. This is because its interface allows any user to navigate its platform easily. You can buy the coin easily in a short order-processing time. More so, the platform enables new cryptocurrency buyers holistic onboarding and advanced users a set of comprehensive tools that enhances their understanding of the value of coins. Trading fees are low, and bought assets can be increased through staking rewards.
Coinbase
Coinbase is a well-known trading space which is accepted in many countries. Buyers can acquire Solana through this platform for a low transaction cost. It offers a wide range of possible trades with Sol with advanced tools like the stop loss function, trades analytics, risk management and educational tools.
Binance
Binance is one of the ideal places to buy Sol. The platform runs a market capitalisation of over $2 billion and offers low transaction fees and a short order processing time. It's also suitable for new and old traders and offers extensive research, trade analytics, and risk management features. It is also one of the most compatible platforms to pair Solana against other crypto trades. 
Kraken
Kraken offers its users facilitative features to enhance trade outcomes. It accommodates a long list of cryptocurrencies which allows pairing Solana with multiple other cryptocurrencies. It's, in that context, ideal for those intending to diversify their portfolio. It allows you to buy Solana for as little as $10, making it suitable if you want to start small. It also offers low transaction fees and solid security.
Conclusion
Solana is an ideal option to opt for in today's market of cryptocurrencies. However, making the most of it as an investable asset requires understanding its architecture and what the impact of market factors would mean to the prospect of your investment.
When ready, ensure to pay close attention to Sol's historical performance and subsequently check against current market trends to be sure it's the best time to invest. Select a reliable and cost-efficient exchange platform like any of those discussed above. Following the outlined procedure in this article will serve to acquaint you with the ins and outs of buying Solana within a secure frame to minimise risks and maximise profit.