The Merge is the crypto event of 2022. But with investors focused on trading the event, several altcoins may be worth buying on the dip.
Ethereum's Merge was finally completed several hours ago, a carefully pre-planned move to a vastly more environmentally friendly proof-of-stake status.
Crypto enthusiasts cannot have missed the news; every investor from Beijing to New York has been trading the event with Ethereum liquidity at its highest in years.
But this cash outflow from the alternatives may have left several altcoins at a lower price compared to their intrinsic values.
Ethereum Merge: 3 altcoins to consider
Cardano (ADA)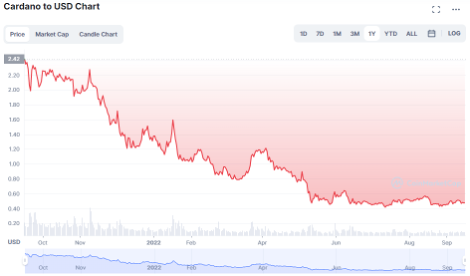 At $0.47, Cardano is far below its $2.85 high of August 2021. The brainchild of Charles Hoskinson, a co-founder of Ethereum, Cardano's continual technological improvement, including its Vasil Hard Fork program, makes it a strong contender as an Ethereum alternative.
The altcoin is the first third-generation cryptocurrency, and aims to address the scaling and infrastructure problems Bitcoin is notorious for. ADA's features include its Ouroboros proof-of-stake approach, which allows for much faster and cheaper transactions.
But more importantly, Cardano is touted by backers as the solution to the interoperability problem; a crypto's portability both within its own ecosystem and its interface with the global finance ecosystem.
As there is currently no way to perform cross-chain transactions between two different cryptocurrencies or conduct unproblematic transactions between a crypto and the global finance ecosystem, users are currently forced to engage through a crypto exchange.
And long term, Cardano could be used for gaming and gambling, identity systems, or even Daedalus, a proposed universal crypto wallet.
Most recently, Cardano has overtaken Ethereum, Polkadot, and Solana for the largest development activity. Out of the total 3,221 contributors currently active across blockchain IT, Cardano developers take the lead with 357 active GitHub contributors.
Hoskinson argues that the latest upcoming Vasil upgrade 'features dramatically improve many different DApps and enable new DApps like Djed to be deployed on Cardano.'
Polkadot (DOT)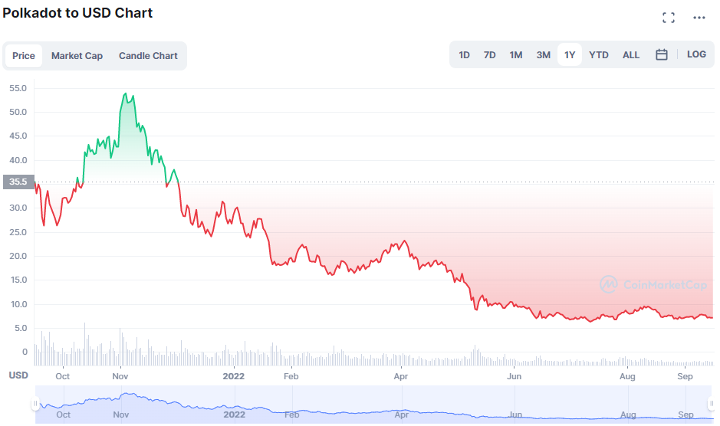 At $7.22, Polkadot is another coin co-founded by an Ethereum creator, Gavin Wood. Like most altcoins, Polkadot is down significantly from its $54 November high.
The crypto is the flagship project by Web3 Foundation, founded to fund a fully functional and user-friendly decentralised internet. Researchers from Inria Paris and ETH Zurich, developers from Parity Technologies, and asset managers at Polychain Capital are all working together to make the project work.
Polkadot operates through an ecosystem of differentiated blockchains called parachains, which allows apps and services on Polkadot to securely intercommunicate, which could eventually form the underlying infrastructure for Web3.
And for the environmentally conscious, it uses the equivalent of just 6.6 US households' worth of energy a year, the lowest carbon footprint amongst all proof-of-stake protocols.
Polkadot experienced a high level of development activity in July and August, but according to data analytics expert Santiment, this metric has slowed in recent days.
However, the crypto is a popular favourite for NFT investing, and according to WhaleStats, one of the most used for its smart contract functionality. Further, developers recently launched a network upgrade to modify the Polkadot Runtime to v9270.
It could be carving out a niche use.
Shiba Inu (SHIB)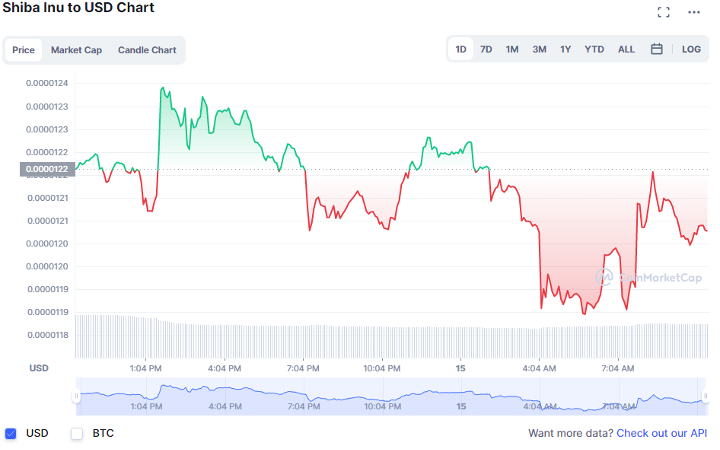 At $0.000012, Shiba Inu is recovering from its hard crash in May. Created by an unknown developer as an alternative to meme crypto Dogecoin dubbed only as 'Ryoshi,' the 'Dogecoin Killer' has in the past been touted by Elon Musk on Twitter as a crypto to watch.
While a far less serious investing prospect, many traders will find it hard not to look at its minuscule price cap, past peaks, and potential for quick returns on meme trading. For example, in October 2021, the coin surged by 240% in the space of a week.
Of course, this altcoin has many risks. Future sharp collapses are probable given the volatility and its chart history. Most concerningly, one wallet — and therefore one owner, possibly its creator — controls billions of dollars of the coin, with no safeguard to prevent mass selling at any time.
However, there are some tailwinds for Shiba Inu. South African exchange VALR is now allowing users to trade SHIB against Circle's USDC coin, in addition to the South African Rand.
In addition, the coin is partnering with The Third Floor visualisation studio to further develop its Metaverse potential, with industry veteran Brandi Konopasek now on board.
While hazardous, Shiba Inu could deliver sizeable returns to investors with a high-risk appetite as part of a well-diversified portfolio.
This article has been prepared for information purposes only by Charles Archer. It does not constitute advice, and no party accepts any liability for either accuracy or for investment decisions made using the information provided.
Further, it is not intended for distribution to, or use by, any person in any country or jurisdiction where such distribution or use would be contrary to local law or regulation.