Argo Blockchain's collapsing share price could make it the buying opportunity of Q4, but the material risks are not for the faint-hearted or the risk-averse.
Argo Blockchain (LON: ARB) shares are in all probability just about the most contrarian stock pick on FTSE AIM right now.
While the cryptocurrency stock is still up by a respectable 42% over the past five years, many investors will have been caught up in its dizzying meme-induced rally from 11p in early December 2020 to 282p by 19 February 2021.
But those later investors got their fingers burnt, as is often the case with penny stocks which experience violent lurches. The FTSE AIM company is now down to just 17.5p, and further falls appear likely.
However, for the patient investor with a high-risk appetite, Argo Blockchain shares could represent a buying opportunity.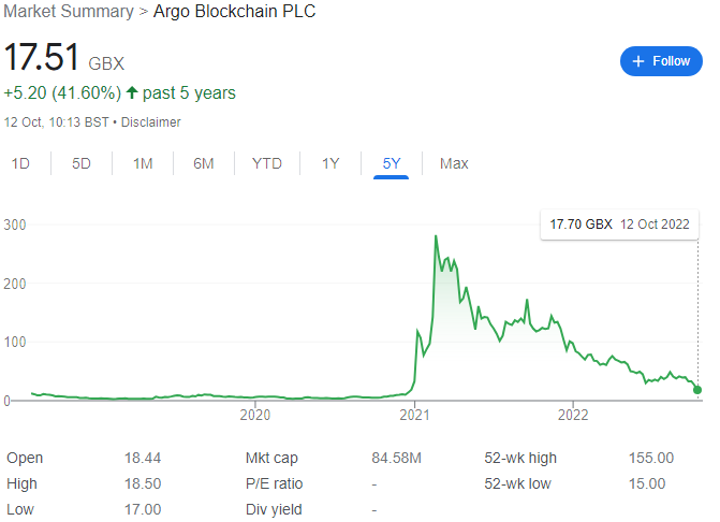 Argo Blockchain shares: half-year results
In H1 results, Argo Blockchain mined 939 Bitcoins, 6% more than in H1 2021. However, revenue fell by 14% to £26.7 million, driven 'primarily by a decrease in Bitcoin price and an increase in the global hashrate and associated network difficulty level.'
The company therefore saw adjusted EBITDA fall by 28% to £17.1 million, while mining margin fell by 10 basis points to just 71%.
Accordingly, Argo Blockchain made a pre-tax loss of £36.9 million, driven by 'a non-cash reduction in the fair value of digital currencies held on the balance sheet.'
Strategically, obtained a £20.2 million loan from NYDIG, collateralised by company mining equipment, and agreed a potential further £56.3 million in financing against even more equipment. And it expects its hashrate capacity to increase to 2.9EH/s by the end of October, an increase of 81% since the start of the year.
Further, CEO Peter Wall enthuses that 'the delivery and installation of the approximately 20,000 S19J Pro machines from Bitmain continues to progress on schedule…we remain confident in the performance of the custom machines and are excited to deploy them starting in Q1 2023.'
In layman's terms, Argo is playing a risky game. It's attempting to hold its mined cryptocurrency at depressed prices, and plans to use loans secured against company property to absorb losses until the bull market returns.
If it succeeds, another share price surge would follow. But failure could lead to collapse.
Where next for Argo Blockchain shares?
Argo Blockchain's fate is inextricably linked to Bitcoin. The world-leading cryptocurrency has fallen by 66% over the past year to just above $19,000 apiece.
Bitcoin's price is linked primarily to two drivers; the US dollar, and monetary policy. As interest rates rise, the US dollar becomes a more attractive investment, and institutional money deserts the proposed world reserve currency for the current world reserve currency.
But the eventual recovery could see Bitcoin hit record highs. If this happens, Argo could sell off its holdings, pay off all loans, and generate significant profit.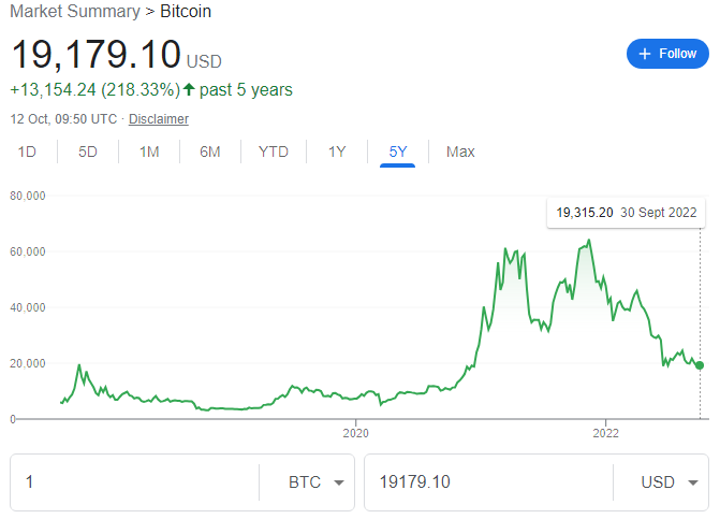 However, there is an additional spanner in the works.
The FTSE AIM company has just released an emergency announcement entitled 'Strategic Actions to Strengthen the Company's Balance Sheet.' This title is probably the exact opposite of what investors want to hear.
The company was 'pleased to announce' steps to boost liquidity, including selling 3,400 'new in box' mining machines for £6 million, a key sign that the days of growth are over. Worse, it also plans to issue £24 million of new shares, diluting current shareholders.
Of course, electricity prices are high, and Bitcoin prices are low.
But this announcement can be taken two ways; either a desperate play for cash to ride out the storm, or an intelligent strategic shift which recognises that the recession requires buckling down to survive.
However, here's the context. Argo mined 215 Bitcoins last month, worth circa $4.2 million. That's equivalent to $50.4 million on a twelve-month basis. At its reduced market cap of just £83 million, the company could be a hugely oversold buying opportunity for long-term investors.
Of course, it only has 512 Bitcoins worth $9.7 million at hand, and has huge debts hanging over its head. If Argo runs out of credit before crypto recovers, it could collapse entirely.
High risk, high reward.
This article has been prepared for information purposes only by Charles Archer. It does not constitute advice, and no party accepts any liability for either accuracy or for investing decisions made using the information provided.
Further, it is not intended for distribution to, or use by, any person in any country or jurisdiction where such distribution or use would be contrary to local law or regulation.