Ethereum's price could be forming a bottom as sentimental and technical analysis skittishly settles down on the bullish side.
Ethereum, the much-loved younger brother of Bitcoin, has experienced a disastrous first half in 2022. The cryptocurrency hit a record £3,462 on 12 November 2021, before falling to £1,779 by mid-January.
After recovering to £2,623 on 1 April, Ethereum then fell to as little as £812 on 18 June.
But having recovered to £959, the altcoin looks to be forming a rickety bottom, despite being down 23% over the past month, and 66% year-to-date.
Ethereum price: bullish momentum?
Fidelity's Jurrien Timmer, Director of Global Macro, believes that while Bitcoin appears cheap, Ethereum could currently represent better value. The analyst tweeted 'I use the price per millions of non-zero addresses as an estimate for bitcoin's valuation…that valuation is all the way back to 2013 levels, even though the price is only back to 2020 levels.'
He added that Bitcoin is likely to see 'a more modest price appreciation' as 'the adoption curve is tracking the more asymptotic internet adoption curve, rather than the more exponential mobile phone curve.'
Encouragingly, Timmer noted that 'if Bitcoin is cheap, perhaps Ethereum is cheaper. If ETH is where BTC was four years ago…Ethereum could be close to a bottom.'
And the numbers back him up. Ethereum has breached the 200-week moving average, with traders who participated in the technical bullish set-up on July 3 up 8.4% so far.
Moreover, Ethereum's network is finally coming close to completing its transition to proof-of-stake, after successfully completing its second-to-last major Merge trial on the Sepolia public test network on 6 July. The success has been held largely responsible for the price rally in recent days.
Crypto analyst Nika Deshimaru points out Ethereum is at a crossroads; after trading between $1,245 and $1,050 over the past fortnight, bulls need to break through the upper level to make a sustained move higher, while bears need Ethereum's price to stay between this resistance and support level in order to see further downside pressure comes from sellers.
Crypto engineer Crypto Feras notes that Ethereum's recent price movement 'is giving more clarity than $BTC atm… PA is still showing clean rejection of the range-high. Potential bull-flag being formed (not enough yet).' However, Feras warns that 'if we continue bleeding below flag support, $1,020 (£855) is coming.'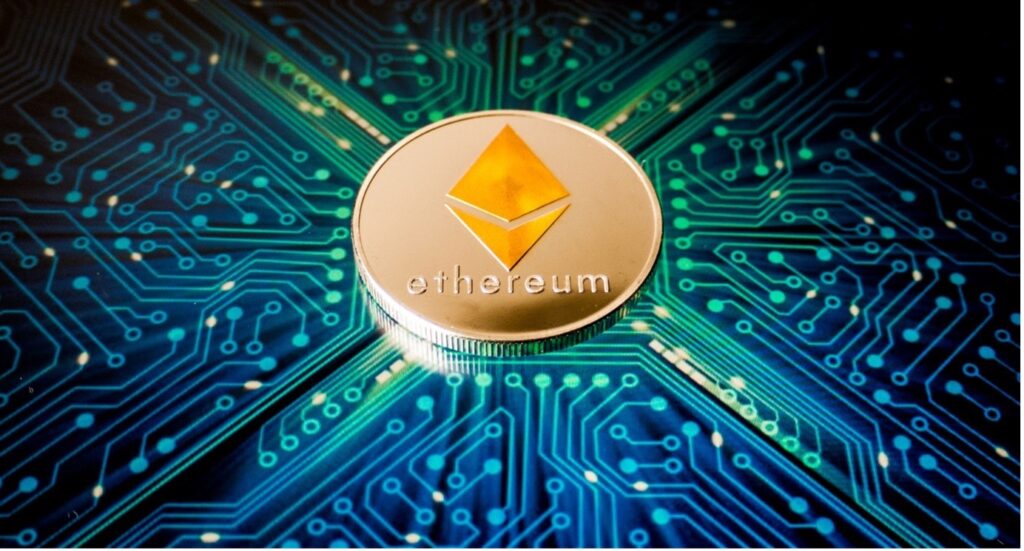 Flock of black swans coming for Ethereum?
After FTX CEO Sam Bankman-Fried issued a warning that a further market crash could be incoming, every altcoin, including Ethereum, has been bracing for any potential black swan event.
The largest potential risk now comes from the bankruptcy trustee of collapsed Tokyo-based crypto exchange Mt Gox, once the largest Bitcoin exchange in the world.
Trustee lawyer Nobauaki Kobayashi has emailed creditors telling them they could receive funds in either US dollars, Bitcoin, or Bitcoin Cash, which means up to 150,000 Bitcoins worth $3 billion could soon be hitting the market simultaneously. Analyst Aaron Brown notes 'it might push prices down…the decline might spook some other people and we might see a further drop.'
For context, when Mt. Gox collapsed, it contributed to the multi-year bear market that sent Bitcoin south of $3,000; a similar event could see Bitcoin fall below $10,000. Of course, the effect on Ethereum could be even worse as the altcoin could be infected with negative sentiment.
Meanwhile, MicroStrategy CEO Michael Saylor has hit out against Ethereum's move to proof-of-stake consensus. In an interview for Altcoin Daily, the CEO argued that Bitcoin is the only commodity in the crypto sector, while every other coin is classed as a security.
This is a direct rejection of current policy; Bitcoin and Ethereum have both been classed as commodities by US Senators Kirsten Gillibrand and Cynthia Lummis, as well as heavyweights including at the Securities and Exchange Commission and Commodities Futures Trading Commission.
Saylor argues that 'Ethereum is a security, I think it's pretty obvious…it was issued by an ICO, there's a management team, there was a pre-mine, there's a hard fork, there's continual hard forks, there's a difficulty bomb that keeps getting pushed back.'
The CEO's argument hinges on Ethereum's continued technological upgrades, which means it lacks a 'completely decentralized protocol where nobody can change it even if they wanted to change it,' while Bitcoin 'for it to be a commodity there can't be an issuer, and the truth is you can't really make decisions.'
Of course, Bitcoin has also been upgraded multiple times, most notably by the Taproot soft fork in November last year.
But Saylor thinks all proof-of-stake cryptos are at heightened risk of being regulatory censured, while Bitcoin's proof-of-work status gives it a stronger level of legal support. He argues that 'all of the proof-of-stake networks are securities and they're all very risky […] it's above my pay grade, the regulators will decide whether or not they allow them to continue.'
But with the bulk of technical and sentimental analysis in Ethereum's favour, the altcoin could continue its recovery soon.