Cardano's steady-as-she-goes technological advancement makes for a compelling investment case.
Cardano's (ADA) price has fallen by 82% from its high of 207p in August and is now changing hands for the same 38p as it was in February 2021.
But with Cardano's blockchain tech advances continuing, ADA has price consolidated at a stable support level of 38p since 13 June. And with its hard fork nearing completion, a recovery could be on the cards.
Cardano price: hard fork complete The third phase of Cardano's blockchain development, Goguen, saw Cardano launch smart contract capabilities, which allowed decentralised finance developers to launch dozens of exchanges and DeFi protocols. According to DefiLlama, Cardano's top app is currently DEX Wingriders, with $49.7 million total value locked.
Now in the fourth phase of development, Basho, Cardano aims to increase interoperability between sidechains as a key feature required for increased scaling. Crucially, the crypto has hit an important milestone, completing the Vasil hard fork on the testnet.
Cardano creator Charles Hoskinson's Input Output HK (IOHK) argues that the fork will see developers benefit from 'much-improved script performance and efficiency,' as well as reduced costs. Project developers, stake pool operators, and exchanges are now deploying work on the testnet to ensure integrations run smoothly when the fork is applied to the mainnet.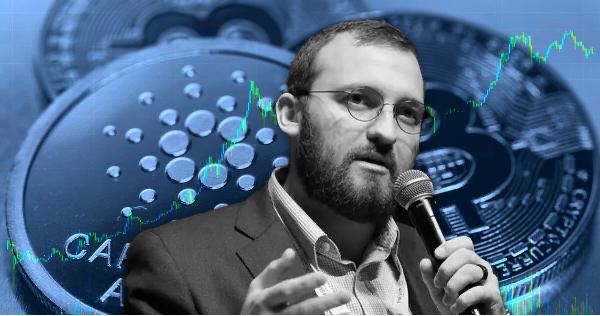 IOHK notes that it will only apply the hard fork to the mainnet when 'ecosystem partners are comfortable and ready,' allowing four weeks to tweak bugs or failures.
When the Basho phase completes, Cardano will benefit from both faster block creation and greater scalability for decentralised apps. It will then be followed by the fifth phase, Voltaire, with a focus on improved governance.
What is Cardano's investment case?
After its launch in September 2017, Cardano's ADA token stayed under the radar for years. But with a $15.4 billion market cap, coinmarketcap now has it as the 8th largest crypto on the market.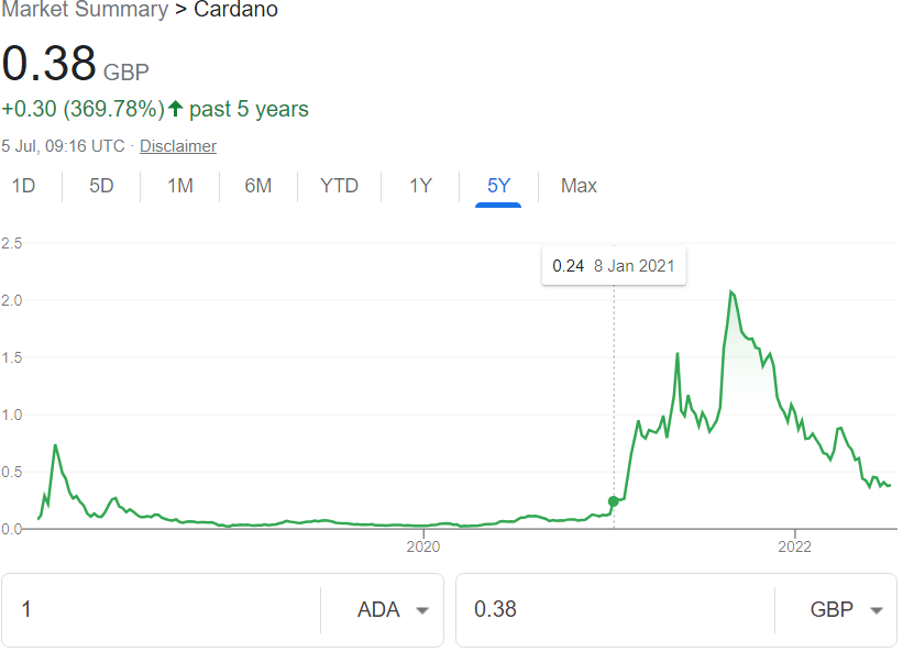 Hoskinson was a co-founder of Ethereum, now the second most valuable coin, but left to develop ADA to 'provide a more balanced and sustainable ecosystem' for cryptocurrencies, with a 'scientific philosophy and research-driven approach.' In essence, this means its open-source blockchain undergoes rigorous peer-review by scientists and academics. Contrast this with Dogecoin creator Jackson Palmer (pseudonym Shibetoshi Nakomoto), who tweeted in May 2021 'I made doge in like 2 hours, I didn't consider anything.'
Moreover, ADA markets itself as the first third-generation cryptocurrency, with the capacity to address the scaling and infrastructure problems that Bitcoin has consistently struggled with. Specifically, the Cardano blockchain aims to improve on scalability, interoperability, and sustainability that larger coins lack.
Its Ouroboros proof of stake approach is a proposed answer to Bitcoin's scaling problem. Instead of having a copy of individual blockchains on each node, Cardano's blockchain streamlines the number of nodes in a network by appointing a leader node responsible for validating transactions from a collection of nodes. This both saves energy and allows for faster transactions compared to Bitcoin.
Cardano's advances also aim to improve interoperability — a crypto's portability both within its own ecosystem, but also regarding its interface with the global finance ecosystem. Currently, there is no way to perform cross-chain transactions between two different cryptocurrencies or conduct seamless transactions between a crypto and the global finance ecosystem.
This leaves crypto investors at the mercy of exchanges which can charge high fees, crash, or collapse completely, and which fundamentally go against the decentralised ideal of blockchain tech. Cardano is touted as a long-term solution to this problem.
Cardano also benefits from strong sustainability; its relatively high value provides miners incentive to mine the crypto, while its steady, scientifically tested technological advancements mean it has so far avoided the messy hard forks experienced by both Bitcoin and Ethereum.
Cardano could one day be used for purposes including as the underlying framework for gambling and gaming systems, identity management, and ID systems. Long-term, it's being used as the scaffold for Daedalus, a universal crypto wallet with fiat conversion capabilities.
ADA does face stiff competition from Litecoin and Ripple, both of whom want to fill similar roles. However, Solana is falling out of favour having seen seven major outages in 12 months. And Ethereum has delayed the launch of Merge, which will see it evolve from proof-of-work to proof-of-stake consensus.
This leaves Cardano as a top-ten, technologically advanced and scientifically backed crypto which appears to have formed a bottom.
And with competitors struggling, a near-term value increase seems likely.