The 15th of September, 2022, wasn't just another day at the office for engineers and developers of the Ethereum blockchain. The Merge, a much-anticipated innovation, was successfully finalized, evidencing a swap from Ethereum's pioneer consensus mechanism proof-of-work to an energy-efficient model proof-of-stake. 
Although the process appeared to be seamless, it was not an easy feat in any way. Describing the complexity of the technical effort needed to make this possible in lay terms, Justin Drake, a researcher at Ethereum Foundation, said it is like switching out an engine from a running car.
Transition plans have been in motion since Ethereum was launched in 2015. Then, on the 1st of December, 2020, Ethereum launched the Beacon chain testnet. 13 shadowfork were done before The Merge, with the last one completed on the 9th of September, six days before the main event.
Following the success of The Merge, Ethereum's energy consumption—estimated to be equivalent to Finland's—is expected to reduce by over 99%. The blockchain's security and scalability are also expected to increase after The Merge.
While Ethereum tries to find its ground with its new working model, Dogecoin has effortlessly taken Ethereum's spot as the second largest proof-of-wok coin by market cap—coming only after Bitcoin. It has indeed been a distant journey to the top for the meme-inspired, Musk-inflated cryptocurrency. After being released in 2013 as a joke, Dogecoin is now the second-largest proof-of-work and tenth-largest coin. It has a market cap of over $8 billion at the time of writing.
From being a meme to heading for the moon, how was Dogecoin able to make this rocket move? Let's take a brief look at Dogecoin's history.
The Creation of Dogecoin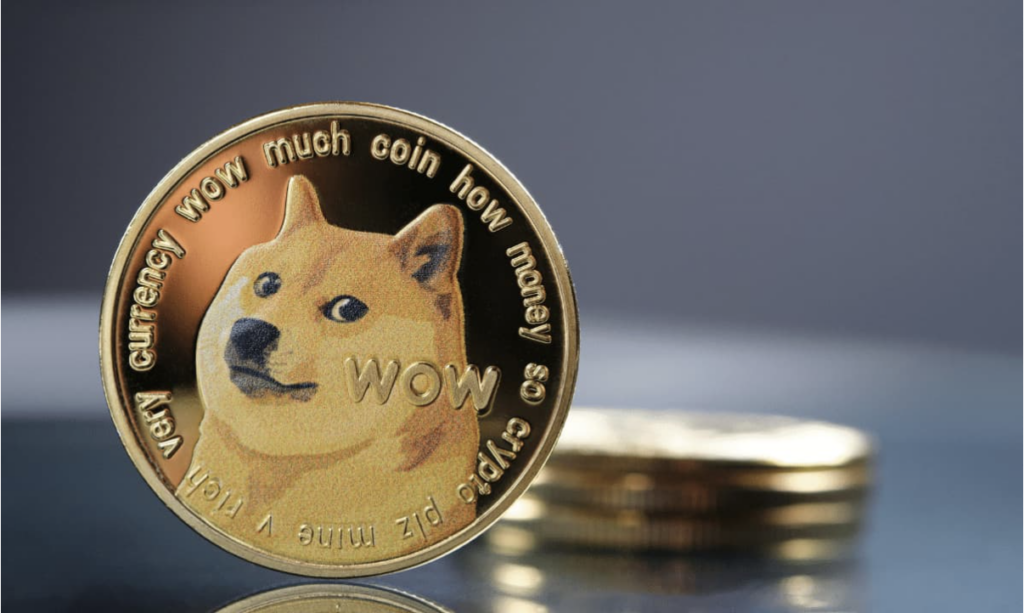 Bitcoin's launch remains one of the most novel and well-timed technological innovations ever created. The cryptocurrency gave people control over their money and allowed them to transact with anyone anywhere without authorization from any third party. Bitcoin came at a time when people were expressing lethargy towards banks following the 2008 global financial crisis.
Besides being decentralized, Bitcoin was also made open-source, enabling anyone to access and edit the code. Many people took advantage and duplicated the code leading to the creation of coins like Litecoin, Peercoin, Bitcoin Gold, Bitcoin Diamond, etc.
Software engineers Billy Markus and Jackson Palmer hopped on the clone trend and used the Japanese dog breed, Shiba Inu, for its logo. This mascot was quick to help the coin gain attention from a whole of people—dog lovers, crypto enthusiasts, Bitcoin pessimists, and even those who had little knowledge of cryptocurrency but wanted to be a part of the market.
Dogecoin's Price Upsurge
For a coin with no technological innovation, more and more people continued to trade Dogecoin in the following years. The coin gathered a strong and devoted following around the world, and traders regularly made jokes about heading to the moon—a crypto jargon for getting rich.
A little over four years after its creation, Dogecoin's market cap reached $2 billion in January 2018. It was such an unexpected achievement that co-founder Jackson Palmer dissociated himself from Dogecoin and any related issue. He expressed that the skyrocketing Dogecoin price was a sign that the project (and cryptocurrency generally) was a bubble, and he had no idea why a currency with a dog on it which hasn't released a software update in over two years has a $1B+ market cap.
As expected, the news from Palmer had its effect on Dogecoin's price. However, the cryptocurrency has remained strong even with very little active management.
Celebrities' Involvement with Dogecoin
Over the years, a few celebrities have publicly endorsed Dogecoin, which is another reason why the coin has gotten a lot of engagements. Chief of these celebrities is the currency world's richest man, Elon Musk.
Musk, on many occasions, has made tweets that boosted the price of Dogecoin. After his tweet on the 1st of March, 2021, Dogecoin's price rose by over 100%, as reported by CNN. American rapper Snoop Dogg and Israeli-American musician Gene Simmon have also made tweets as a show of support for the growth of Dogecoin.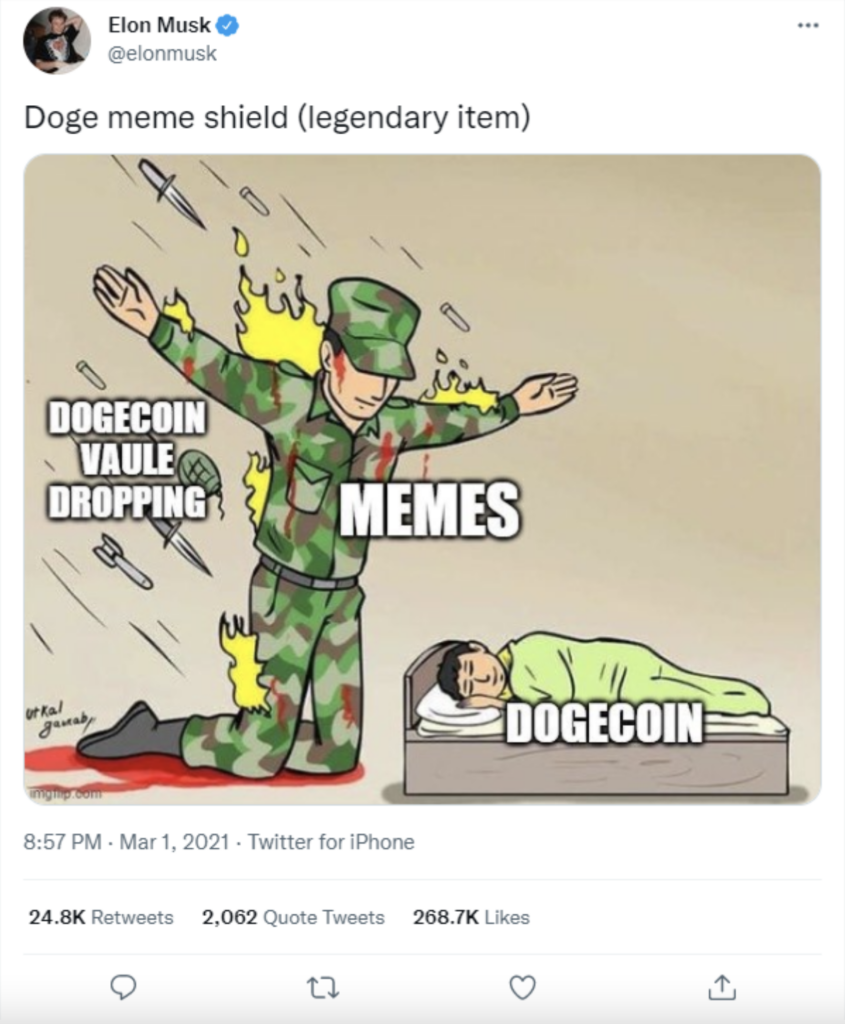 How Is Dogecoin Mined?
Dogecoin uses a consensus mechanism known as proof-of-work. In the proof-of-work model, tasks computers try to solve complex computational problems to find a specific hash and verify each transaction block. The first computer to solve this problem is given a cryptocurrency reward. In the case of Dogecoin, the reward for winners is usually DOGE tokens.
The process of solving this problem is known as mining, and the people who operate the computers and get rewards are known as miners. The essence of mining is to ensure that crypto transactions are secure and difficult to mine.
What Is the Future of Dogecoin?
Dogecoin reached its all-time high of $0.6848 in May 2021, according to CoinMarketCap. At the time of writing, the price is currently at $0.06152, a decline of over 91%. The cryptocurrency currently has an unlimited supply, and according to the popular crypto platform, Currency, there were about 132.67 billion Dogecoin as of June 22, 2022. 
Following the law of demand and supply, an increase in the number of existing Dogecoin can lead to a further decrease in its value. Note that this does not constitute financial advice, and you should do in-depth research before investing. The cryptocurrency market is volatile, and the factors affecting prices are unpredictable.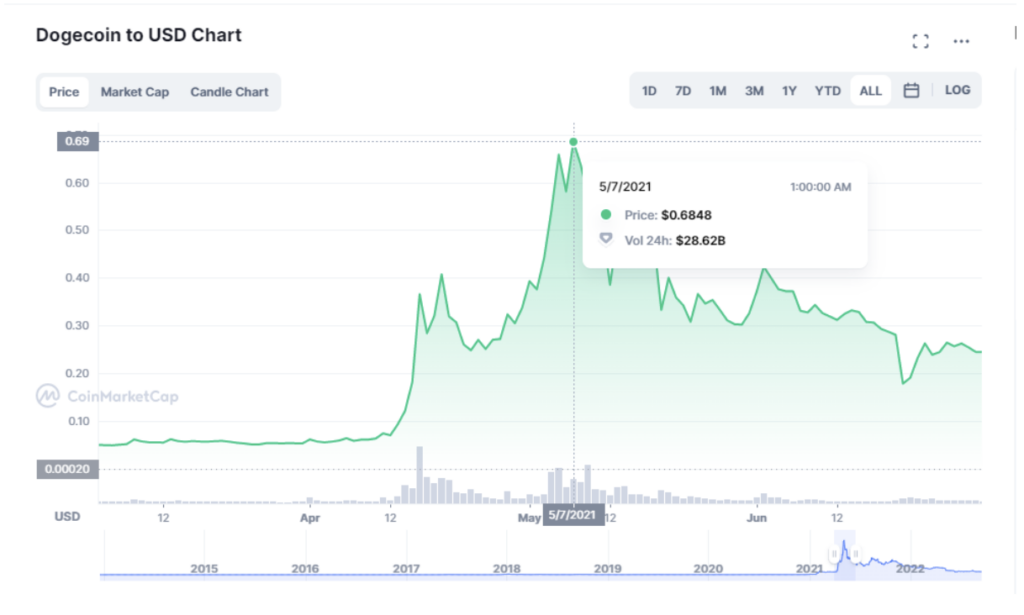 Should I Buy Dogecoin?
For a fact, the Dogecoin price has soared in the past years. However, before you buy or invest in Dogecoin, you must know that the coin does not present a solution to any problem, unlike other cryptocurrencies like Bitcoin and Ethereum. There are inclinations that the price of Dogecoin will reach $1, and if these predictions are true, you can make a fortune by buying Dogecoin now. However, ensure that you have done your research and reached a conviction before you buy Dogecoin. Most importantly, do not invest more than you can afford to lose.
This article has been prepared for information purposes only. It does not constitute advice, and no party accepts any liability for either accuracy or for investment decisions made using the information provided.